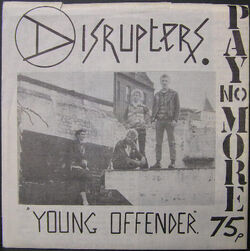 Young Offender was the first single by the Disrupters, released on Radical Change Records in 1981.
The title track Young Offender was released on Abstract's Punk & Disorderly compilation in 1981 (& CD release [1] by Anagram in 1997), and is one of the bands most well known tracks. It still remains in the setlist to this day.
Young Offender (1:37)
U.K. Soldier (2:38)
No Place For You (2:46)
Label: Radical Change Records
Cat no#: RC1
Released: 1981
Vocals - Steve Hansell
Drums - Kevin Wymer
Guitar - Gibbon
Bass - Tim Perkins
Artwork by the Disrupters
Produced by Jon Ward & the Disrupters
Written by the Disrupters
Engineered & Mixed by Dave Knowles
Recorded at Whitehouse Studio, July 1981
External Links
Edit
Ad blocker interference detected!
Wikia is a free-to-use site that makes money from advertising. We have a modified experience for viewers using ad blockers

Wikia is not accessible if you've made further modifications. Remove the custom ad blocker rule(s) and the page will load as expected.