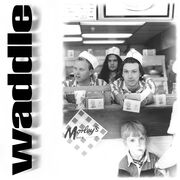 Biography
Edit
Early to mid nineties, no apologies, no excuses hardcore, tracks like "Arsehole Ride" give a fair clue to there hardcore post-grunge leanings. Waddle were very much a three piece comprised of Charlie, Martin and Steve all from up the coast round Sheringham, They possessed a stripped down but dense sound. They released two singles, one split single and an album on Noisebox Records, and had the odd distinction of their music being used on "Television X". They were played on both John Peel and the Evening Session.
The photo shoot for the album artwork was produced in "Morleys" on Prince of Wales Road.
Charlie went on to play for Oil Red O.
Previously Martin and Steve had been in Beaver Fever
Martin and Charlie can sometimes be heard on Radio Norfolk talking about sheds...
Personnel
Edit
Martin James-Bass Guitar Vocals
Steven Hare- Guitar and lookin good
Charles Wilson - Drums
Discography
Edit
Food
nbx008 - 7" black vinyl - Noisebox Records
(smeared with tomato sauce/curry)
Arsehole ride/Jungle
nbx021 - 7" brown vinyl - Noisebox Records
'Cheeseburger Cheeseburger Cheeseburger Cheeseburger Cheeseburger'
nbx023 cd lp - Noisebox Records
Initially sold with a free &' vinyl copy of "Food".
1. Jungle
2. Big and Black
3. Easy
4. Tony
5. Mass Pussy Hunt
6. TandNo Freightline
7. King Wocker
8. Food
9. Steven's New Capri
10. Cairo
11. Arsehole Ride
12. Find
13. Wuss
split single
nbx031 waddle/egg - 7" green vinyl - Noisebox Records
noisebox card sleeve with sticker