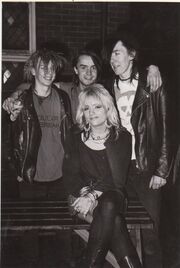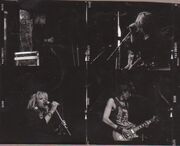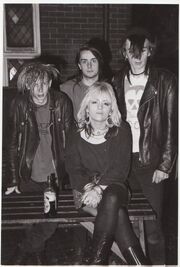 Biography
Edit
Throb was formed in 1987 or 88 and consisted of Jyl Bailey on vocals, Mark Fox on drums, Rob ? on bass and Andy Pickford on rythym and lead. Mr Ray Beer suggested Jyl join a band as he couldnt hear the records playing at a party due to her incessant singing !
A Throb set would be original numbers, influences including Led Zep, All about Eve (?), Stevie Nicks, bit of classic rock and punk rock plus two Iggy Pop numbers, Dirt and I Wanna be your dog. First lyrics focused on domestic violence and drug addiction (nice !) but soon made way for love when the writing therapy was no longer needed !
First demo recorded; Loves Been Beaten (see ?),Who Needs you and Better The Devil (long b4 Kylie) (recorded at Kitchen Studios, St Marys Works, Duke street, april 1988 )
Second demo; Visions/Million Miles, Over You and Before You Fade.
 Mark left closely followed by Jyl and her misplaced loyalty ! Andy and Rob then found Nigel Emblin of Colorform, formed Brain Drain 69 and used Princes Trust Money awarded to Throb to buy equipment !!! Jyl went on to sing in a Psychedelic band in London supporting Ozric Tentacles and an Acid Rock band in North Wales, Mark chilled out somewhere !!
Ad blocker interference detected!
Wikia is a free-to-use site that makes money from advertising. We have a modified experience for viewers using ad blockers

Wikia is not accessible if you've made further modifications. Remove the custom ad blocker rule(s) and the page will load as expected.