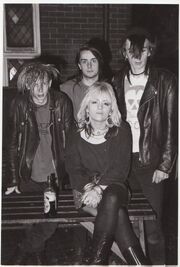 Biography
Edit
Throb was formed in 1987 or 88 and consisted of Jyl Bailey on vocals, Mark Fox on drums, Rob Robinson on bass and Andy Pickford on rhythm and lead guitar.
A Throb set would be original numbers plus a handfull of covers: Influences included Led Zep, All about Eve, Stevie Nicks, Iggy Pop, MC5, The Ramones etc. First lyrics focused on domestic violence and drug addiction but soon made way for love when the writing therapy was no longer needed. The intense lyrics & pounding wall of rock made 'Throb' a unique & popular experience.
First demo recorded; Loves Been Beaten, Who Needs you and Better The Devil (long b4 Kylie) (recorded at Kitchen Studios, St Marys Works, Duke street, april 1988 ) (Only available in Japan)
Second demo; Visions/Million Miles, Over You and Before You Fade.(Bootleg 12 inch)
Mark left after losing his monkey closely followed by Jyl after disagreements about direction. Andy and Rob then found the incredibly nubile drummer Nigel Emblin, formed the ultrasonic 'BrainDrain 69' and sensibly used Princes Trust money initially awarded to the now dead 'Throb' to buy equipment, heroin & prositutes. 'BrainDrain 69' went on to storm the Norwich indy band scene with their explosive mix of rock & punk edged with Robs lyrics, a needed relief from the tedium of bands like 'The Kaisers Advisers' etc. Jyl went on to sing in a handfull of bands throughout the UK. Mark continued searching for his lost monkey..