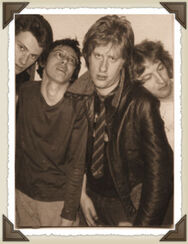 The Toads claim to be Norwich's first punk band.
Formed in February 1977, after Dave Smith placed an advert in the window of 'Cookes Band Instruments'.
The line up consisted of, Dave Smith, David Viner, Paul Cheetham & Polo. Neither Paul nor David had played live with a band before, Polo had played drums for various bands and Dave had played one gig in a band called Dick Dangler & The Testicles. After playing a few gigs around Norwich, the band entered Touchstone Studios to record three tracks in the summer of 1977. The tracks recorded were; "Blood on My Wheels", "I Don't Care About You" & "Eyes".
In late September, 1977, Paul Cheetham quit the band, who continued as a 3 piece until the end of 1977, when the band took some time out. By early 1978, enthusiasm had died and the band split.
Paul Cheetham started a new band, Ebonyset. Dave Smith & Polo formed Broadside Outcasts who went on to become Silent Noise.
Dave Smith (vocals, bass, rhythm guitar)
David Viner (vocals, rhythm guitar)
Paul Cheetham (vocals, bass, rhythm guitar
Polo (drums)
Each member would sing lead vocals for their own compositions, Dave Smith & Paul Cheetham both prefered to play rhythm guitar while singing, so would swap instruments.
Gigs Played
Edit
22 April 1977 Kingsway Pub, King Street, Norwich
5 June 1977 'Wymondham College' with another local group, The Victims,
12 June 1977 Cambridge Street Queen's Jubilee Street Party, Norwich. With 'The Stain'
30 July 1977 'Charing Cross Centre', St John Maddermarket. With The Victims plus The Bondage Boys.
10 September 1977 'Premises Arts Centre', St Benedicts Street. Support group were The Turkey Molesters.
24 September 1977 Premises Street Roots Party, 'Premises Arts Centre'. Also playing were 'Thandoy' and 'Here and Now'.
8 November 1977 'Peoples Nightclub' supporting 'Rumblestrips'
15 November 1977 Peoples Nightclub' with Rumblestrips.
22 November 1977 'Peoples Nightclub' with Rumblestrips.
1 December 1977 Premises Arts Centre' supporting 'The Radio Stars'
4 December 1977 'Wymondham College'. with The Victims plus 'Rasputin and His Mad Monks'.
6 December 1977 The final gig at 'Peoples Nightclub', 'Rasputin and His Mad Monks' plus Right Hand Lovers
External Links
Edit
Ad blocker interference detected!
Wikia is a free-to-use site that makes money from advertising. We have a modified experience for viewers using ad blockers

Wikia is not accessible if you've made further modifications. Remove the custom ad blocker rule(s) and the page will load as expected.