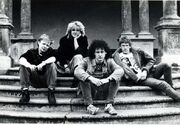 Biography
Edit
The Passengers were formed in 1981/82 by Howard Turner and Samantha Elmhurst. Soon joined by Bang Goes My Stereo member Pete Woodcock and Nick Morgan who later formed Virtually Fat Freez. Line ups changed after Sam left to join Ranata Spirit and subsequent members included Pam Munro and Ian Clayton. The band then morphed into Pet Hates.
Ad blocker interference detected!
Wikia is a free-to-use site that makes money from advertising. We have a modified experience for viewers using ad blockers

Wikia is not accessible if you've made further modifications. Remove the custom ad blocker rule(s) and the page will load as expected.