Biography
Edit
Think The Cocteau Twins, My Bloody Valentine, Catherine Wheel and The Sundays with a splodge of Dead Can Dance and a sprinkling of The Cranes, A soundtrack to a slightly surreal Audrey Hepburn film. A three piece comprised of Ian Gallacher, Cliff Woollard and Lydia Payton plus a Drum Machine, They hooked perfectly into the Shoegazing scene which prevailed at the time, and ended up supporting the likes of Stereolab and the Catherine Wheel, and gigged around and about the East, and London, including the Camden Falcon, plus showcase gigs for Backwater One with Noisebox Records stablemates Ivy, Steerpike and The Lemongrowers.
The band Split in 1993 having had two releases on Noisebox. Ian still writes and currently plays music in Northern France.
Personnel
Edit
Lydia Payton - Vocals
Cliff Woollard - Bass
Ian Gallacher - Guitar
Discography
Edit
Backwater One Various Artists
Noisebox Records - NBX002 - 1993 - 12" vinyl
Spellbound - Miss Holly Golightly
(also featured Steerpike, Ivy and The Lemongrowers)
The Dark Days EP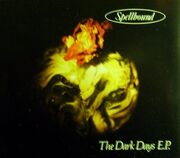 Noisebox Records - NBX005 - 1994 - CDEP
On High
Persuasion
Miss Holly Golightly
Now that's what I call Noisebox
compilation album CDLP
Noisebox Records - NBX018 - 1995
Spellbound: Encore
Ad blocker interference detected!
Wikia is a free-to-use site that makes money from advertising. We have a modified experience for viewers using ad blockers

Wikia is not accessible if you've made further modifications. Remove the custom ad blocker rule(s) and the page will load as expected.