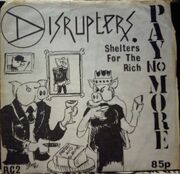 Shelters for the Rich was the 2nd EP by Disrupters.
Recorded at Spaceward Studio in March 1982 and released in August 1982.
The track Animal Farm is a different version to the track that appeared on Unrehearsed Wrongs.
Shelters for the Rich (3:30)
Animal Farm (3:33)
Self Rule (2:27)
Label: Radical Change Records
Cat no# RC2
Released August 1982
Vocals Steve Hansell
Bass Tim Perkins
Drums Kevin Wymer
Guitar Paul Greener
Artwork by Disrupters
Photography by I.M.D.
Produced by Disrupters & Jon Ward
Engineer Joe Bull
Written by the Disrupters
External Links
Edit
Ad blocker interference detected!
Wikia is a free-to-use site that makes money from advertising. We have a modified experience for viewers using ad blockers

Wikia is not accessible if you've made further modifications. Remove the custom ad blocker rule(s) and the page will load as expected.