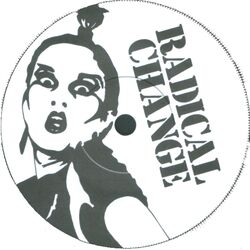 Radical Change Records was a record label founded by the punk band Disrupters, in 1981, with help and distribution from Backs Records.
The label was active from 1981 to 1988, the last release was in 1985.
Discography
Edit
RC1 Young Offender 7" Disrupters 1981
RC2 Shelters for the Rich 7" Disrupters 1982
RC3 Don't Feed Us Shit 7" Icon A.D. 1982
RC4 Let the Vultures Fly... 7" Icon A.D. 1983
RC5 (I Didn't Wanna Be a) Soldier 7" Self Abuse 1984
RC6 Bomb Heaven 7" Disrupters 1984
12RC7 Ever Get the Feeling of Utter... 12" Revulsion 1985
12RC8 Alive in the Electric Chair 12" Disrupters 1985
RCLP1 Unrehearsed Wrongs LP Disrupters 1983
RCLP2 Armageddon in Action LP Destructors 1983
RCLP3 Playing With Fire LP Disrupters 1984
RCLP4 Words Worth Shouting LP V/A 1985
External Links
Ad blocker interference detected!
Wikia is a free-to-use site that makes money from advertising. We have a modified experience for viewers using ad blockers

Wikia is not accessible if you've made further modifications. Remove the custom ad blocker rule(s) and the page will load as expected.