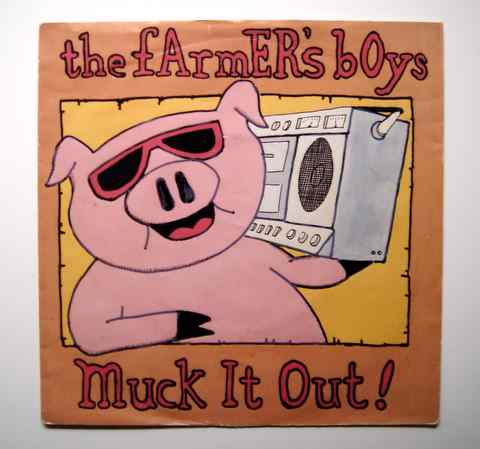 Muck It Out! was The Farmer's Boys 4th single.
Released in April 1983 on EMI, it reached number 48 in the UK charts. It was released in 7", 12" and Pig Shaped picture disc versions.
Muck It Out! was previously recorded twice before, once as a demo, which was released on the free single that came with For You. It was also recorded for a flexidisc given away free by Masterbag (This version was later released on Once Upon a Time in the East). All three recording have slightly different lyrics.
7" & Pig Picture Disc
Edit
Muck It Out! (3:23)
Funky Combine, John (3:18)
Label: EMI
Cat no# 7" EMI 5380
Cat no# Picture disc EMIP 5380
Released: April 1983
Written by: The Farmer's Boys
Producer: Peter Collins
Muck It Out! (extended version) (4:47)
Funky Combine, John (3:20)
Muck It Out! (3:26)
Label: EMI
Cat no# 12 EMI 5380
Released: April 1983
Written by: The Farmer's Boys
Producer: Peter Collins
External Links