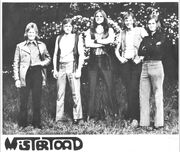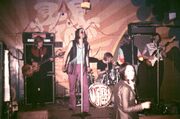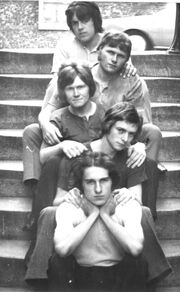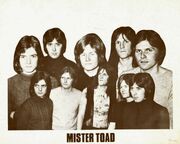 Mister Toad ( Mr Toad ) was a Norwich band playing gigs in the late sixties and early seventies. They were based in Norwich and played in the area that the BBC now classes as "The East". The band began as the "Diamonds" in the early sixties and played in Norwich pubs and clubs. Original members were Stephen Kerrison [SK] (guitar); John Rothsbotham (guitar) and Pete Allen (drums).  Mike Rothsbotham later joined as vocals and organist and David Loombe [DL] on saxophone, then known as "Mike and the Diamonds". In the mid-sixties Pete Allen left and was replaced by Roger (Chas Mayes) [CM] (from the Kriptones). Also during this period lead vocals were undertaken by Terry Seeley (eventually vocalist with Kiss, The band had become known as Mister Toad (often misnamed as Mr Toad).
In the mid-sixties the band was to be auditioned with Hughie Green's Opportunity Knocks. It was just prior to this that the band split up. It re-formed with Stephen Kerrison (base guitar); Chas Mayes (drums); David Loombe (sax) and now joined by Keith Lamb [[Lamb]] (vocals) and Phil Baldwin [PB] (lead guitar), both from Sleepy Talk The band now moved from mainly local gigs to a circuit covering East Anglia, from Essex to Lincolnshire.
Around 1970 Keith Lamb emigrated to Australia (formed [[1]]) along with Robin Jackson (one of Mister Toad's roadies). The vocals were then undertaken by Alec (Alex) Blyth [AB] the band's other roadie.
During the following years lead guitar changes took place. Brian Crook [BC] (from Precious Few) replaced Phil Baldwin, and Brian Crook was replaced by Chris Mortimer [ChM] from Music Hath Charms.
Chas Mayes left mid-1972. He was replaced by Roger Green (origin unknown) and the band changed its name to "Shaft" and then "Argosy" and there were more line-up changes which saw Roger Green and  David Loombe leave. Other members joined, Clive Button, Alan Fish and a new drummer, whose name I can't recall (Paul?). Shortly after this the band split completely.
Chas Mayes is still playing (2015). Stephen Kerrison died in October, 2008. Chris Mortimer is still playing in "locally" based bands (2015).
Related: West Runton Pavilion & Cromer Links Pavilion.
Ad blocker interference detected!
Wikia is a free-to-use site that makes money from advertising. We have a modified experience for viewers using ad blockers

Wikia is not accessible if you've made further modifications. Remove the custom ad blocker rule(s) and the page will load as expected.