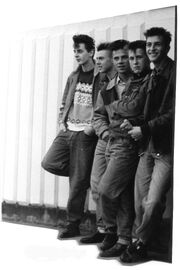 Fireball XL5 entered the Norwich music scene in the very early 1980s. Initially the band played authentic rockabilly music but in a short space of time this developed into a unique style of punkabilly. 1950s rockabilly combined with 1980 era bands like The Meteors and The Cramps influenced the style.
XL5 had a strong and loyal local following and played a number of gigs in the local area including supporting The Meteors at both The Gala and The Jacquard Club, King Kurt at The Gala and Serious Drinking in Chapelfield Gardens.
In 1982 the band was signed by Northwood Records in London. The first release, recorded in London, was the four track EP, Rockin' Shoes, produced with input from Boz Boorer of The Polecats. This was followed by the single Man With No Name c/w Prison Walls. This second session was recorded at UEA Norwich. An album followed which included the already released tracks plus She Gave Me Love and I Won't See The Sunrise Anymore.
During the early 1980s, and for the two studio recording sessions, the line up was as follows:-
Mark Kelf (vocals)
Jonny Bridgwood (bass)
Mark Thorne (lead guitar)
Neil 'Mustard' Samuel (rhythm guitar)
Ian Cooper (drums)
Ad blocker interference detected!
Wikia is a free-to-use site that makes money from advertising. We have a modified experience for viewers using ad blockers

Wikia is not accessible if you've made further modifications. Remove the custom ad blocker rule(s) and the page will load as expected.