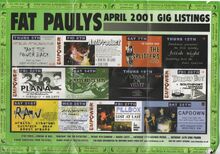 Fat Pauly's was a venue based in Edward Street, it had previous poptastic incarnations as Bonds, Pennies and Charlie Brown's, all of which catered for a more mainstream set of tastes but also featured various bands over the years. In the shadow of the Anglia Square development, it always felt a bit backstreet, even when the bigger clubs such as Rick's Place were still open. Pauly took it over in the early 1990s as the area went into decline as a place for clubbing and venues and indeed everything else. Fat Pauly, a colourful character with more pies than he had fingers to put them in (including a leather shop and an off licence at one point), ran the venue during the 1990s on the site, It played host to an enormous number of national bands usually from the darker, noisier edges of the underground music scene, and also hosted regular Drum and Bass nights. It was at one point the late night drinking and going deaf centre of excellence for those who lived in the North City, providing a well needed non-pretentious outlet for local musicians. It also hosted The Wilde Club for a short time, and regularly hosted nights by artists from Blank Canvas Records, and Noisebox Records.
Ad blocker interference detected!
Wikia is a free-to-use site that makes money from advertising. We have a modified experience for viewers using ad blockers

Wikia is not accessible if you've made further modifications. Remove the custom ad blocker rule(s) and the page will load as expected.