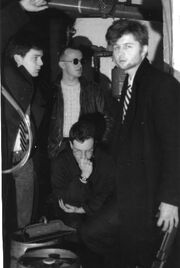 Biography
Edit
An electro pop outfit, Flicked hair, turned up collars and baggy trusers, they did a photoshoot that involved looking moody and a bit James Bond-like sort of, in the cellar at NAC, several keyboard players, a couple of members were from the UEA, all in all very eighties. Front man was called Sam, who left to train as a graphic designer in Bournemouth, Guy with dark glasses in the photo was a cartoonist. Little else known. Formed 1986 split 1987.
Ad blocker interference detected!
Wikia is a free-to-use site that makes money from advertising. We have a modified experience for viewers using ad blockers

Wikia is not accessible if you've made further modifications. Remove the custom ad blocker rule(s) and the page will load as expected.